Flower among the flowerless, from all opinions you are not free,
Yet you bloom where you are planted, giving hope to all who see!
"Well hello there," I whispered, gently touching the paper-like head that balanced precariously atop a long, skinny stem, "I certainly did not expect to see something like you in here."
It seemed to nod, the bright splash of red peeking out of the thicket in my hedgerow. A poppy. A single, lone poppy. How in the world did it get here?
In a neighbor's yard there is a flower garden with poppies, but with the distance and obstacles in-between, it seemed unlikely a seed blew this far. Maybe it was carried by a bird, or got caught on the fur of a stray cat?
More importantly though, how did it grow in such a hostile environment? My hedgerow is not a pretty place. One of those sore spots I keep meaning to clean up, it's got trees, thorny shrubs, and of course a lot of weeds. So a poppy growing up in the mess was a little surprising. It certainly was a determined flower!
Every day as I did dishes, I saw the poppy outside my window, a tiny beacon of color in an otherwise long and drab row of sameness. And deep emotions began to take root.
I thought of the neighbor's poppies, and how happy they all seemed huddled together. And also a "field of poppies," an iconic image of freedom and collective beauty that has been, for centuries, captured in artwork and people's imaginations.
But this single poppy in my hedge was not invoking this same kind of glory. It was in a rough spot. But glory it still had! To me. To God. And it will, to anyone who has ears to hear what the Spirit is saying to His Bride.
❀∙❀∙❀
You suddenly find yourself in an uncomfortable, lonely, or restricted place. How it came about doesn't matter anymore. You want to grow and be fruitful for God. You want to be an overcomer. But the environment, situation, and/or people you are surrounded with does not feel conducive for this. In fact, it is so much the opposite! And all you want to be, is free. Like Paul, you pray three times (or a hundred, if it takes that long) "Please remove this thorny thing from my life!"
It's natural to want to be rescued from discomfort. Thorns in the Bible are a picture of the cares of this world, and anything or anyone that is resistant to the spiritual purpose and productivity of our lives and relationships. We don't want thorns! They irritate and press our spirit beyond measure. But what is not natural is to accept when God's answer is:
"You are a lily among thorns."
"My strength is perfected in your weakness."
"By returning and resting in Me you will be saved. In quietness and trust you will be made strong."⁠1
Have you ever been snagged in a briar patch? What is your body's response? Does it start moving around faster, stomping, or flailing its arms? No, it stops and stands perfectly still. Only then can your body carefully, and properly, extricate itself. To quickly react is to get torn up even worse!
Our body is wise, and if God has told you He wants you to grow a patient, tender, and spiritually loving heart within the situation or people you find yourself with, then learn a lesson from your body, and apply it to your emotions! Complaining, striving, or wishing things were different is to miss out on the very purpose that God is not removing the thorn from your life right now. There is a miracle waiting to happen inside you, but it has to begin with a death to your ego, and your reactive ways of coping.
"Do not be afraid. Stand still, and see the salvation of the Lord, which He will accomplish for you." Exodus 14:13.
"We have this treasure in jars of clay to show that this surpassingly great power is from God and not from us. We are hard pressed on all sides, but not crushed; perplexed, but not in despair; persecuted, but not forsaken; struck down, but not destroyed. We always carry around in our body the death of Jesus, so that the life of Jesus may also be revealed in our body." 2 Corinthians 4:7-10
Jesus once accepted thorns given Him, pressed into His head. It's something He never would have been able to endure, had He not believed that someday you would see Him as especially beautiful because of those thorns!
In the same way, God sees His bride as especially beautiful when she is growing among thorns, and willingly submits herself to Him in the midst of these thorns with inner stillness and trust. Blooming with beauty in difficult places, and loving difficult people—God's ability to use a humble flower is now possible.
I assure you, except a seed falls into the ground and dies, it abides alone:
but if it dies, it brings forth much fruit. ~ John 12:24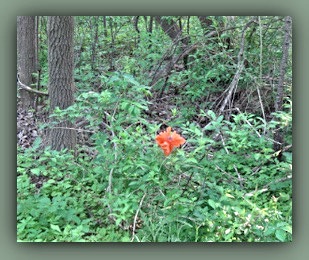 A picture of the poppy in my hedge, when it bloomed June 3, 2012.
1 Song 2:2, 2 Corinthians 12:9, Isaiah 30:15 TPT
Important Note:
This website only gets occasional posts. Mostly, I post at IntimateKingdom.com, which is a conversational study through the Song of Songs. Would you like to get new posts sent to you by email?