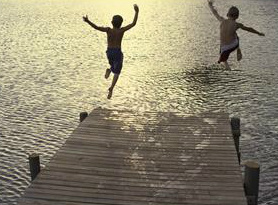 When I was seven, my parents moved out of the city and built a home in the country. What a blessing to discover the nearest neighbors had a boy and girl the same age as my brother and I. We had so many adventures! Fields, woods, a pond — it was endless the places we magically transformed by our imaginations. Those were the days we could play from dawn to dusk, without a care in the world.
Until the day breaks and the shadows flee, turn to me, my love, and be like a gazelle on the mountains. – Song 2:17
I remember a bird call we used to invite our friends to play. If they didn't hear this high-pitched sound across the cornfield and respond with the same, we'd ride our bikes to their house and ask them directly. 
"My dove in the clefts of the rock, let me see your face! Let me hear your voice!" Song 2:14
There is something about the innocent, carefree season of childhood that I think we all long to reconnect with. But it's not easy. I saved a meme that read: "Children smile an average of 400 times a day; adults 15. Children laugh about 150 times a day; adults 6. Children play between 4 to 6 hours a day; adults maybe 20 minutes. What happened?¹"
When a spiritual father was on his death bed, I asked him what he would wish for me to do more of after he is gone. His response? "Play more." 
That was not the answer I expected! But the truth is, play (and its  twin, "rest") is what I find the hardest to do. Serving, working, and being "effective" (or trying to be) are all things that come more naturally for me. 
As I'm being prepared for the next section of the Song, which begins with 1:15/16 and continues through Chapter 2 — I see how much of it takes place outdoors. And it's playful! For our two lovers, the forest is turned into their bedroom. Rocks and caves become places to play hide and seek. And hills are simply springboards to leap back and forth to each other.
As it is, Love gives wings to work, and transforms the mundane into the marvelous. Whenever I find myself stressed by all the "to-do's" on my list — it is always because I've allowed my love life with Jesus to get too dry and "adult-like." 
My prayer is that what is coming next in the Song of Songs rekindles all the spiritual playfulness, creativity, and "first love" works that God intends for us in His "Intimate Kingdom!"
Why do you not love Me now as you did at first?
Think about how far you have fallen!
I beseech you to turn around, and do the works of love you used to do.
– From Revelation 2:4,5.
P.S.  On that note, here's a delightful song (below) to bask in: John Denver's "You Fill Up My Senses."